Data Migration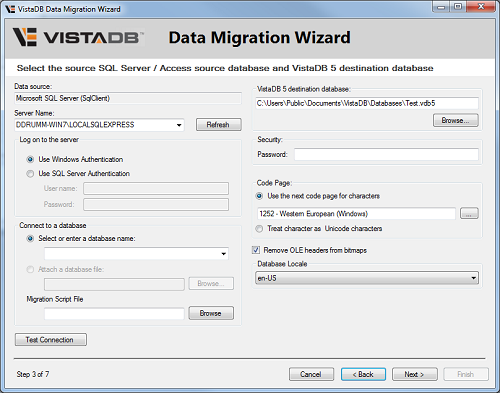 The VistaDB Data Migration Wizard makes it very easy to migrate existing databases from SQL Server, Microsoft Access and SQL CE. Full migration of Microsoft's famous Northwind database takes under a minute. There is a tutorial for migration of the NorthwindEF Database to VistaDB.
Command Line Scriptable
After you've gone through the Data Migration Wizard and configured how you want to migrate your database you can sve this as a template and invoke the migration from the command line. This makes it easy to migrate databases in the field to switch from another database platform to VistaDB.
Features
Easy-to-use wizard format for quick and easy migration
Change database settings before migration
Edit column and table names before migrating
View the database data and structure before migrating
Select tables and columns to migrate
Ability to migrate database schema only without data
Migrate from:

Microsoft Access (MDB and ACCDB if Access runtime installed)
SQL Server 2000/2005/2008 - SQLClient connection to server
SQL Server Compact Edition (SQL CE) 3.5 (SDF file)
Going Deeper
For complete details on how to migrate an existing database to VistaDB see User's Guide: Data Migration Wizard